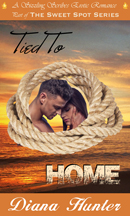 Wisteria Penny Lane has life exactly where she wants it. Her store is in the black, the tourist season is about to start, and she has a best friend willing to get her out of (literally) tight situations. If only she could explain that self-bondage helps her relax after a hard week.
Matt Carter doesn't want to go home. But broke and with a past to hide, his options are few. What was it Robert Frost said? "Home is the place where, if you have to go there, they have to take you in." So back to Port Clef, with no choice but to suffer through a boring summer, working for his cousin and paying off debts.
Including a debt owed the first woman he ever loved…Wisteria Penny Lane.
Purchase at: