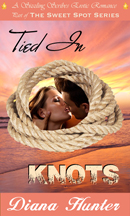 Luke Fitzgerald is intrigued by Port Clef's petite masseuse. She's cute. Except, he doesn't do cute, especially not since the last love of his life ran screaming into the night when he suggested a kinky night of bondage. He swore he'd never date someone "cute" again.
Emily Eaves isn't looking for a summer fling despite her attraction to her newest client. Doc Fitzgerald is easy on the eyes and has the most intriguing scar. All she really wants is to pay her bills, establish herself as Port Clef's premier massage therapist, and live a quiet life.
Unfortunately, her ex-boyfriend is back in town and determined to ruin everything.
Purchase at:
Amazon     Barnes & Noble     iBooks