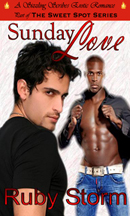 It's something that's always been in the back of Jake Sunday's brain since saying goodbye to his good friend from boot camp. Military deployments sent them separate ways, led them along different life paths, but he never forgot Tony.
Jake is out of the closet and proud of it. He will live the best life for himself, but first a deep-seated need to discover if Tony could have been the man for him brings Jake to Port Clef years later.
Tony's hands are full with a family business and a young son, but life is good and he's happy. A man from his past, one who's tickled his memory and tormented his fantasies suddenly appears out of the blue, adding an unexpected twist to what he always thought would be the norm. Now he's got to decide if he's re-establishing an old friendship or if he could have something more.
Purchase at: