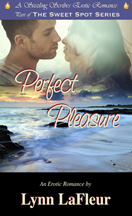 Lust grabs Damien Beauvais the first time he sees Cassie Reid standing on the beach. He hasn't reacted so strongly to a woman in three years, not since the accident that changed his life.
From the moment Cassie meets Damien in his aunt's bakery, fantasies of the two of them together fill her mind. When a romantic dinner produces a sexy kiss, Cassie is sure Damien is the man for her.
But Damien still carries demons from his past. It will take all of Cassie's love to prove to him that they belong together.
Purchase at: