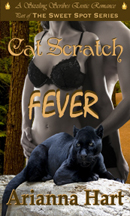 Sage Forrest thought her dancing career was over when she ruptured her ACL on stage, but two years later she is rebuilding her life as a dance teacher in Port Clef, Connecticut. Things are going along well, until she is attacked by an escaped puma from a nearby wild cat preserve.
Sam Walker, the enforcer for a clan of shape-shifting cats called the Felis a Bast, hates being forced to eliminate someone he's known his entire life, but the safety of the clan comes first. When the rogue cat scratches a local dance teacher, it's up to Walker to make sure she doesn't expose the clan to the world.
As Walker and Sage are forced together, fevers ignite, and both of them will have to make choices that could mean the end of life as they know it.
Purchase at: